Annual Celebration Dinner Cancelled, But We Need Your Help!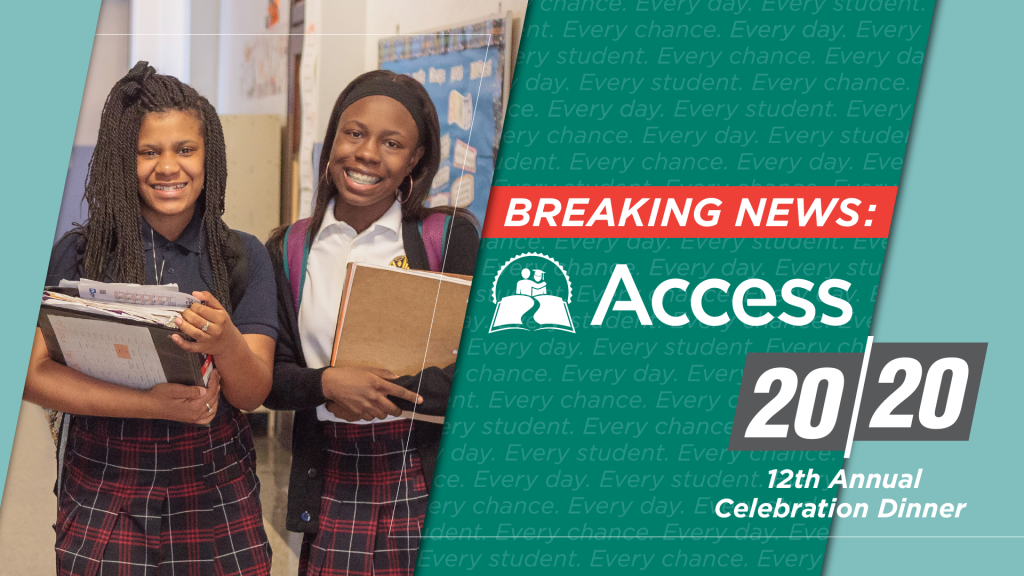 April 30, 2020
Dear Friend of Access:
As you know, we were scheduled to host our 12th Annual Celebration Dinner at the Ritz-Carlton, St. Louis on June 4th. And while restrictions on social distancing may ease over the coming weeks, the health and safety of our supporters, students, and staff remains our top priority. As such, we regret to inform you that we are canceling this year's in-person gala.
The Annual Celebration Dinner is our largest fundraiser of the year and, in addition to serving as a joyous evening to honor our students, helps us raise the lion's share of our scholarship and programming budgets. Last year, thanks to your overwhelming generosity, we brought in over $700,000 for graduate and college support, enrichment programs, and high school tuition scholarships. This year, in the absence of a formal dinner, we are going to need your help more than ever to fund our programs.
Our team is currently exploring the possibility of hosting a virtual fundraiser and online mission appeal, but in the meantime, we'd ask that you please consider matching your donation from recent years by clicking on the donate link below.
Your gift makes a difference. This February, 53 Access Academy 8th graders were accepted to 19 private, college-preparatory high schools across the St. Louis region. Over the next five years, Access has committed more than $2.3 million in high school scholarships, not only to this class of incoming 9th graders, but to all of our students — from 6th grade through college graduation. And that doesn't include the important investments we make in our Grad Support Directors and enrichment programs.
The ongoing pandemic may have changed the world around us, but it hasn't changed our students' needs or our mission: to propel at-risk middle school students through high school and on to college and career success with enrichment, counseling, and scholarships. We remain dedicated to ensuring that all of our kids benefit from the entire Access program and that no family's participation is disrupted because of this crisis.
Of course, we couldn't do any of this without your continued generosity and loyal support. As always, we sincerely thank you. I look forward to seeing you in person again soon, but until then, stay safe and be well!
Every student. Every chance. Every day.
Tom Mackowiak
Executive Director
tom.mackowiak@accessacademies.org
314.898.0430, Ext. 1
PS: I also want to share some feedback from our students and their families after receiving the Schnucks and Target gift cards we sent to them earlier this month… we are making a difference!
"Access Academies truly cares about their students and families. I was pleasantly surprised that they sent all the students a gift card to go grocery shopping during the Covid-19 pandemic. They also made free social and emotional support available to Academy students. They have been a blessing!" — Kandyce Davis, mother of Sister Thea Bowman 6th grader, Alfred K.

"I wanted to take a moment and say thank you for the Schnucks' gift cards from Access. That was very thoughtful, unexpected, and much appreciated during the pandemic. You are appreciated. Thanks again!"— M. Byas and Family (Eric, De Smet '23; Julian, 8th grade, and Quincy, 7th grade, Most Holy Trinity Catholic School)

"Just wanted to thank you for all that you do! I really appreciate the gift card. Always warms my heart knowing that Access Academies takes care of their students. Stay safe!" — Esmy Hernandez (St. Louis Community College, St. Cecilia Catholic School & Academy)
Donate Now