Our Partner Schools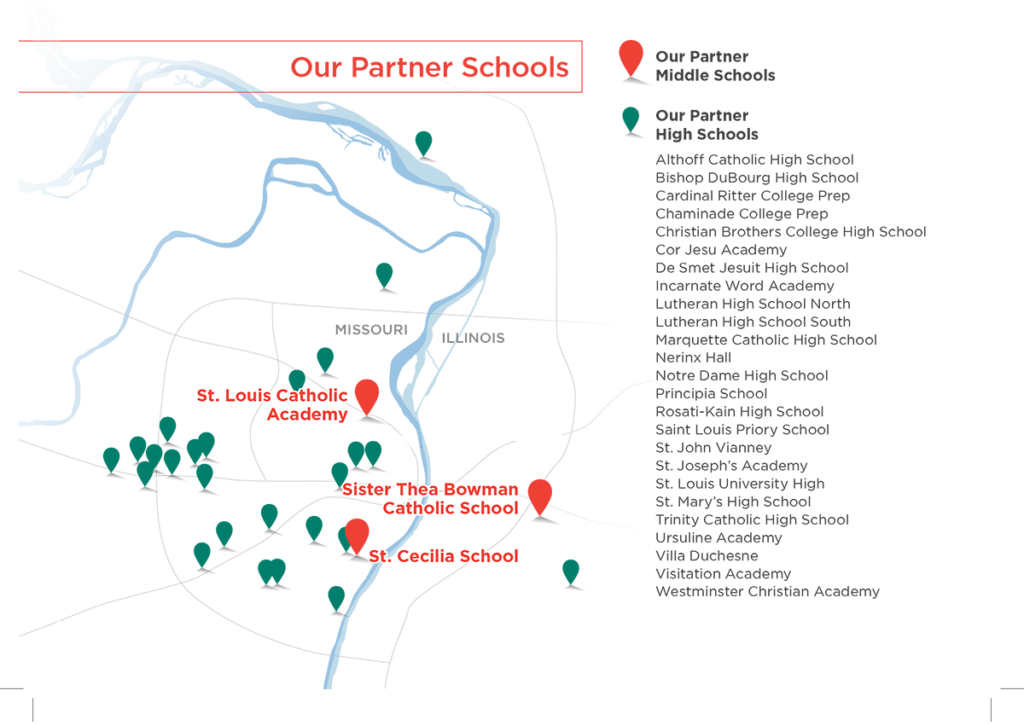 Access makes an 11+ year commitment to each student. Beginning in middle school, we support a robust academic curriculum, homework assistance, service projects, and an extended-day enrichment program. In addition, we offer mandatory summer school and provide an in-school Graduate Support Director who works directly with each student and their families from middle school to college.
Middle Schools
St. Cecilia School & Academy (South St. Louis)
906 Eichelberger Street
St. Louis, MO 63111
(314) 353-2455
Principal: Mrs. Emily Roth
Graduate Support Director: Ms. Galicia Guerrero
Graduate Support Counselor: Ms. Vivian Garcia
St. Louis Catholic Academy (North St. Louis)
4720 Carter Avenue
St. Louis, MO 63115
(314) 389-0401
Principal: Ms. Sandra Morton
Graduate Support Director: Ms. Joslyn Sandford
Graduate Support Director: Mr. Jordyn Hale
Sister Thea Bowman Catholic School (East St. Louis)
8213 Church Lane
East St Louis, IL 62203
(618) 397-0316
Principal: Mr. Timothy Keefe
Graduate Support Director: Ms. Carmelita Spencer
High Schools
The private, college-preparatory high schools listed below are true partners in our communal efforts to provide a top-quality, values-based education to all students. The leadership, faculty, and staff of our partner high schools see the importance of a student body that is racially, culturally and economically diverse, and believe every child can reach his or her potential if given the right structure, environment, education, motivation, and inspiration.
Althoff Catholic High School
Bishop DuBourg High School
Cardinal Ritter College Prep
Chaminade College Prep
Christian Brothers College High School
Cor Jesu Academy
De Smet Jesuit High School
Duchesne High School
Incarnate Word Academy
Lutheran High School South
Lutheran High School North
Marquette Catholic High School
Nerinx Hall
Notre Dame High School
Principia School
Rosati-Kain High School
St. Louis Priory School
St. John Vianney High School
St. Joseph's Academy
St. Louis University High
St. Mary's High School
Trinity Catholic High School
Ursuline Academy
Villa Duchesne
Visitation Academy
Westminster Christian Academy