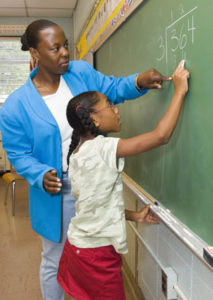 Since 2005, over 500 disadvantaged youth have received a top-quality, values-based education thanks to ACCESS Academies' unique model of education.
ACCESS (Academies Creating Challenging Education for St. Louis Students) makes a seven-year commitment to each student, beginning in middle school, to support a robust academic curriculum, homework assistance, service projects, and enrichment. ACCESS also supports mandatory summer school, and provides a school-based Graduate Support Director, who works directly with each student, and their family, from middle school, through high school, and into college.
In addition to supporting the extended school day and summer school programs at each Academy, the Graduate Support Director works with families to find a college-preparatory high school that fits the student's unique personality and learning style. After leaving middle school, the Graduate Support Director then eases the transition from middle school to high school by monitoring each student's individual academic growth and achievement through mentoring and advocacy. Finally, while a student is in high school, the Graduate Support Director provides college assistance through college tours, ACT test prep, college application and essay support, and FAFSA counseling.
ACCESS also works with a variety of partners to ensure that students with the greatest educational challenges and social needs are reached. Presently, Academies are housed within three Archdiocesan partner schools:
– Most Holy Trinity School & Academy at 1435 Mallinckrodt St. (North St. Louis)
– St. Cecilia School & Academy at 906 Eichelberger (South St. Louis)
– St. Louis Catholic Academy at 4720 Carter Ave. (North St. Louis)
Because of the hard work of each student, dedicated parental involvement, strong partnerships, and ACCESS's support and services:
– 98% of ACCESS Graduates are admitted to private, college-prep high schools
– 99% of ACCESS Students graduate on-time
– 95% ACCESS Students are accepted to college or other post-secondary institution
ACCESS graduates have attended the following St. Louis high schools:
Bishop DuBourg High School
Cardinal Ritter College Prep
Chaminade College Prep
Christian Brothers College High School
Clyde C. Miller Career Academy
Cor Jesu Academy
DeSmet Jesuit High School
Gateway Institute of Technology
Incarnate Word Academy
Lutheran High School North
Lutheran High School South
Metro Academic and Classical High School
Nerinx Hall
Notre Dame High School
Rosati-Kain High School
St. Elizabeth Academy
St. John Vianney High School
St. Joseph's Academy
St. Louis University High
St. Mary's High School
Trinity High School
Ursuline Academy
Villa Duchesne High School
For more information, please call (314) 898-0430.