Access Releases 2020-2021 Annual Report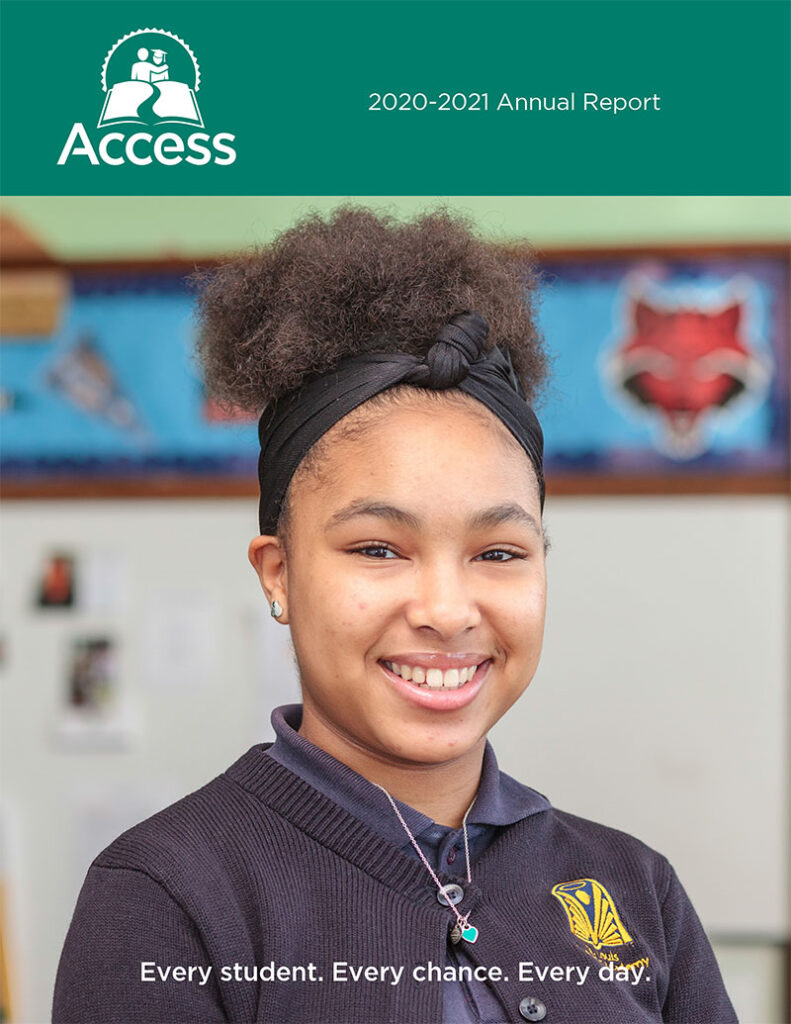 Dear Friends and Supporters,
Every year we take the time to reflect on our work, and every year we are profoundly grateful for the overwhelming support, kindness, and dedication that you show the students of Access Academies.
This past year was particularly challenging. Filled with much uncertainty for our entire region, it required us to come together to meet the needs of our students and families differently. Because of you, we were able to forge ahead, serve with purpose, and use innovation to create solutions to new problems. Because of you, we can undoubtedly celebrate many accomplishments and lessons learned. Together, we:
• Strengthened our College and Career programming with the first Access Academies ACT Prep Program and College Scholarship, as well as laid the foundation for expanding our College and Career team.
• Prioritized organizational capacity building by partnering with FTI Consulting, a global business-consulting firm, to conduct a pro-bono analysis that provided Access with data-driven insights to better serve our students and partner schools. Access was also awarded a capacity-building grant by St. Louis Community Foundation to conduct staff professional development and implement strategic organizational initiatives.
• Reaffirmed our commitment to data by beginning a two-year program evaluation initiative and hiring a Postdoctoral Evaluator.
• Welcomed Shelly Williams (pictured above) as Executive Director, and celebrated our first year of partnership with the Saint Louis University School of Education.
Thank YOU for helping Access Academies make the best of 2020-2021. Your continued partnership will accelerate our work to improve youth outcomes, address equity gaps with critical enrichment, counseling, and scholarships, and provide our students with the resources necessary to sustain our impact. We also offer a sincere thanks to our partner schools and staff for working with us to keep our students on the path to success during a year of such uncertainty.
As we learned this past year, there are many ways in which we all support the Access mission – and the impact of our efforts relies heavily upon the dedication of many. We hope you enjoy reading the success of our joint efforts in this year's annual report. Thank you again for everything that you do for our students. We are proud to consider you a part of the Access Academies family.
Sincerely,
Brian Day
Chair, Board of Directors
Click here to read the full report.