2021-2022 Annual Report Is Out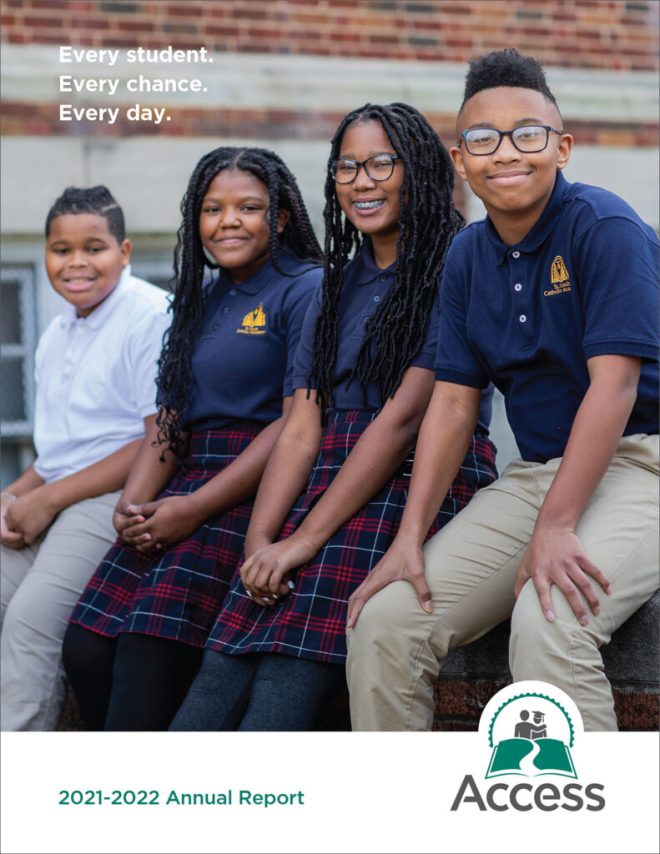 Dear Friends and Supporters,
The theme of this year's Celebration Dinner was 'Making Our Mark,' and it provided an inspiring front-row seat to the incredible work and dedication of our students. As I listened that evening to our young alums share their success stories, I was reminded not only of how many Access Academies graduates are indeed 'making their mark' in the world today (over 1,300!) but how many are still on that journey and benefiting from your generosity.
Let me be specific. Thanks to your kindness and unwavering commitment to Access this year, 506 students — from 6th grade to college — had unlimited access to our Graduate Support Directors, establishing a network of caring and supportive adults to propel every student forward. Over 220 families saw their financial burden eased with real high school tuition relief — on average, each family paid $195 a month to support their child's education at a top private high school. And 156 Access Academy middle school students received over 1,000 hours of additional instruction in our after- school and summer enrichment programs.
But that's just the beginning of how your gifts have helped change lives. Gifts for which we are profoundly grateful. As we emerged from the pandemic and returned to a state of normalcy, we launched a handful of exciting new initiatives through our partnership with Saint Louis University aimed at driving equity in education across St. Louis. You can read about them in more detail here. We also:
Guided 41 eighth graders from our three partner middle schools into their top-choice college-prep high schools, and celebrated 42 high school seniors as they received over 80 college acceptances and $1,550,000 in scholarship offers.
Held our first fully in-person dinner since 2019 and awarded Marian 'Bo' and Terry Mehan the inaugural Access Academies Founders Award for their years of generous support, distinguished leadership, and passionate dedication to Access' students and its mission. Congratulations to Bo and Terry!
Expanded our enrichment offerings by forging important community partnerships with Pianos for People, New Dimensions Soccer, and the Black Rep. And in a testament to the long- lasting relationships we form with our students, Maryville University graduate Erika Valenzuela returned to her alma mater, St. Cecilia, to teach an enrichment course in graphic design.
Invested over $805,000 in tuition and fees so Academy students could attend one of our scholarship partner high schools, and awarded 55 collegians with the Access College Scholarship. With your support, we have continued to grow our financial commitment to our college and post-secondary students and have invested over $34,550 to date.
As you will see, 2021-2022 was a successful year for the students of Access Academies, and I am excited and proud to share this annual report with you. Not only does it demonstrate our success together, but it also emphasizes the importance of our partnerships as we work to address inequities in our students' lives.
On behalf of our scholars, graduates, families, staff, and board, thank you for believing in our mission, trusting us with your gifts, and joining in this endeavor. Most importantly, thank you for helping us give every student, every chance, every day.
Sincerely,
Brian Day
Chair, Board of Directors
Click here to read the full report.