Access Mourns Passing of Longtime Supporter Terry Mehan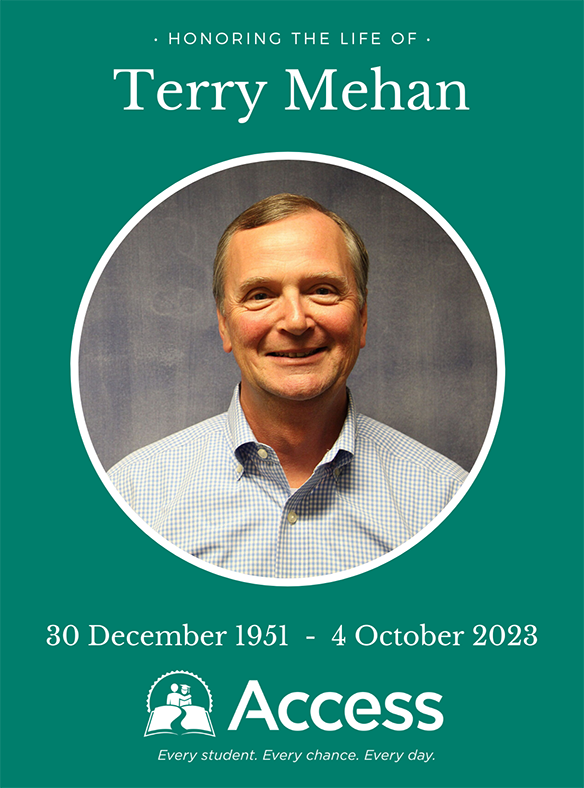 Dear Access Supporter,
We are deeply saddened to share the news that our dear friend and colleague, Mehan, passed away this week after a protracted battle with cancer.
One of Access Academies' earliest and most steadfast supporters, Terry's contributions to our organization are immeasurable. As its first Development Director from 2006 to 2011, Terry helped get Access off the ground. He expanded fundraising efforts, cultivated new donors, established the Annual Celebration Dinner, and raised the money and support necessary for our sustained growth and success.
As Graduate Support Director at St. Cecilia School & Academy from 2011 to 2015, he found a passion in counseling Access students and families, and his mentoring and advocacy helped shape the lives of so many of our young scholars. His impact will be felt for years to come.
Finally, as a member of the Board of Directors from 2015 to the present, Terry served as chair of the Programming Committee, where his steady leadership and forward-looking vision helped guide our strategic planning and the expansion of our programs and services.
Terry brought insight, wisdom, and an unwavering commitment to the Access mission. His dedication to and enthusiasm for our students were contagious. He was a kind and generous person who always had a smile on his face. And he was a source of inspiration for all who had the privilege of working alongside him. Terry had a unique ability to light up a room with his presence and leadership, and we will never forget this. He will be dearly missed.
All are welcome to celebrate Terry's life and honor his legacy. For information regarding the visitation and memorial service — as well as to share memories or leave your condolences — please refer to his obituary here.
With deepest sympathy,
Brian Day
Board Chair