Access News, Announcement, Student Spotlight
Student of Achievement: Mackenzie G.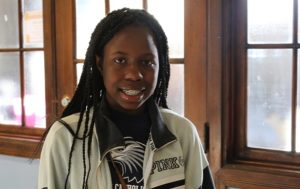 We are thrilled to recognize Mackenzie G., a seventh-grader at St. Louis Catholic Academy, as a Student of Achievement!
According to Ms. Joslyn Sandford, Mackenzie's Graduate Support Director, she is "a silent leader and stands on her own 2 feet. She always strives to do her best and not afraid to ask for help if she doesn't understand. She always looks at situations in different perspectives and does an excellent job of helping her classmates see things in a different light."
A student at St. Louis Catholic Academy since preschool, Mackenzie has given back to her community on numerous occasions, including a recent class field trip to a local community center to distribute toys, gift cards, and boxes of stuffed animals and food to those in need.
***
Favorite Teacher: I have had different experiences with all of my teachers and like them all.
Favorite Subject: I don't have a favorite subject. However, I do well in science. We just did a project on physical and chemical changes that was fun.
Current Academy Programs: Access Academies Young Professionals, Band (Mackenzie plays the trumpet!), Sewing, 4H Leadership, Garden Club, Love Project, and Technology.
Favorite Academy Program: Technology class because it is more hands-on and fun compared to my other classes.
Additional Activities: Girl Scouts and church usher.
Fondest Memory of School (So Far): I don't know because I have a lot of fond memories here. In 3rd grade, we raised mealworms until they turned into beetles. It was fun and gross at the same time so it really stands out in my mind.
What are you looking Forward To and Why: I am looking forward to turning 16 and going to prom.
Prospective High Schools: Trinity Catholic High School, Rosati-Kain High School, Incarnate Word Academy, and Metro Academic and Classical High School
Prospective Colleges: I like Harvard and Howard University. My uncle lives in Washington D.C. so I will have family close.
Career Aspirations: I am interested in a career as a lawyer, OB/GYN, or criminal investigation.
Role Model: My cousin Alexis because she is 19 and has a job. She pays for her own things, like her car, and is saving for her own apartment. I want to be like that and don't want to live off