Access News, Announcement, Student Spotlight
Student of Achievement: Leslie G.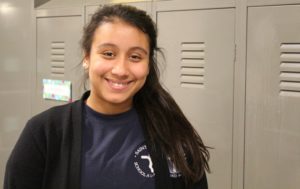 We are thrilled to recognize Leslie G., an eighth-grader at St. Cecilia School & Academy, as a Student of Achievement!
According to Mr. David Hackett, her Graduate Support Counselor, Leslie is "an incredibly bright student and strong critical thinker. She has a strong work ethic and is a leader among her peers; this past semester Leslie excelled in her studies, achieving a near-perfect GPA."
Leslie, who is a member of St. Cecilia's Student Council, has been accepted into Villa Duchesne.
***
Favorite Teacher: "Mrs. Beyer because she wanted us to be overachievers. If we were assigned 15 facts then she wanted us to do more. She always wanted us to do our best and pushed us harder."
Current Academy Programs: Young Professionals, Crafts, Harmonica, Study Hall, Piano, and Hip Hop
Favorite Academy Program: "Study Hall because it helps me complete my homework so I don't have to do it at home. I also like having time to talk with my teachers. Sometimes I have math homework and it helps me having the extra time to ask questions."
Career Aspirations: "I want to become a crime scene investigator. I find it very interesting and it is a great way to help people."
Role Model: Michelle Obama because she is a leader, very outgoing.  She is her own person and I like how she helps young women around the world.