Access News, Announcement, Student Spotlight
Student of Achievement: Avion B.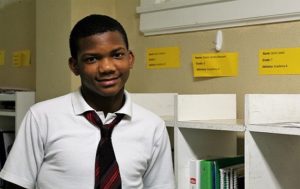 We are thrilled to recognize Avion B., an eighth-grader at Most Holy Trinity School & Academy, as a Student of Achievement!
According to Mr. Nick McDowell, Avion's Graduate Support Director, he is "a great leader amongst his peers. He has strong academics and is a great role model for the younger students."
Avion, who has attended Most Holy Trinity School & Academy since the second grade, said the key to success is doing your work on time.
***
Favorite Teacher: My third-grade teacher, Ms. Leto. Third grade was a lot of fun because we did a lot of activities, like making dirt cups in science. I also remember making gingerbread cookies and ice cream floats for Christmas. She even brought us gifts.
Favorite Subject: Mathematics because I like working with numbers.
Current Academy Programs: Ambassadors, Young Professionals, Chess, Basketball, and Study Hall.
Favorite Academy Program: I like being part of the school's Ambassadors program because we are in charge of planning a fun activity on half days. For Advent, we made wreaths with a school family colors. (Most Holy Trinity's family program brings students closer together at the school by having students from each grade in one family. The families spend time together, like reading together, and compete against other families, like kickball tournaments.
Hobbies: I like to play basketball, football, and baseball. I think baseball is my favorite because I am closer to the players on my team.
Fondest Memory of School (So Far): In second grade we went on a field trip to St. Nicholas Skating Rink. We went skating, had pizza, and it was just a good time, even though we fell a lot!
What are you Looking Forward To in High School and Why: I liked shadowing the high schools. I felt De Smet was the best fit for me because I have friends there, and they have a great sports program and a wide variety of clubs.
Future High School: De Smet Jesuit High School
Role Model: My role model is my big brother, Kel, because he is very nice. He has done a lot for my family and is currently attending the University of Texas-San Antonio.