Access News, Board of Directors
Remembering Access' Visionary Founder, John Vatterott (1943-2023)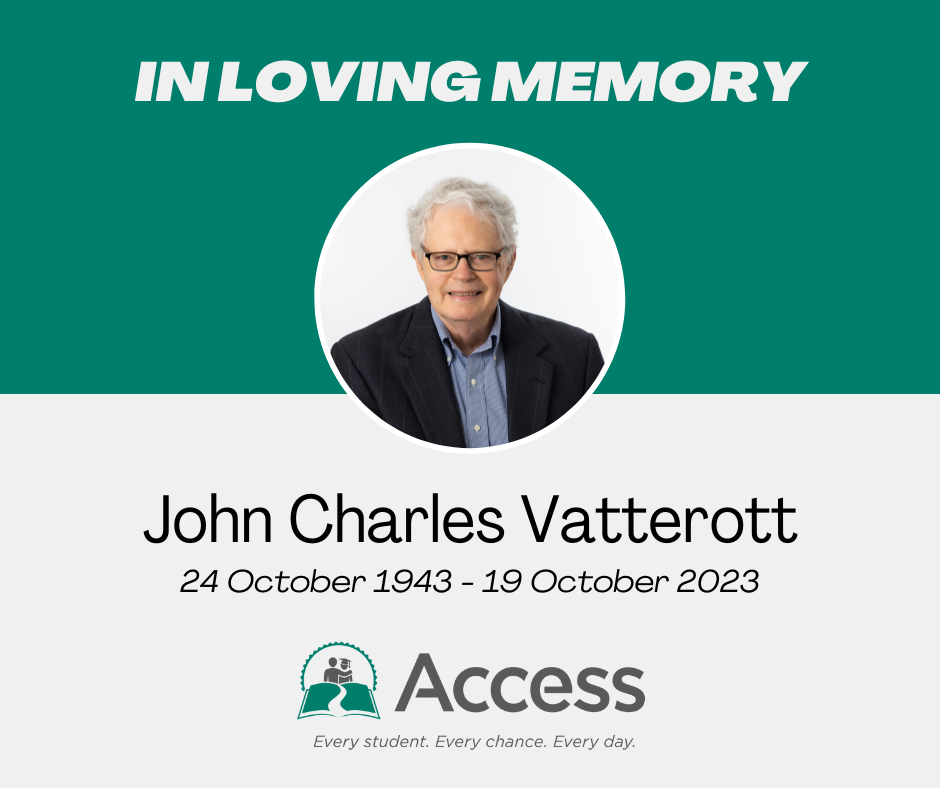 Dear Access Supporter,
It's hard to believe I'm writing to you with more sad news, but our beloved friend and Access' founder John Vatterott passed away last Thursday. Days shy of his 80th birthday (which we celebrate today), John had been fighting cancer for over a decade.
Twenty years ago, John Vatterott pioneered the idea for an organization that would guide underserved students from across St. Louis into high school and later on to college and career success. It was an innovative idea born from his deep-rooted beliefs that education was the most enduring path out of poverty; that a strong neighborhood school was the bedrock of a vibrant community; and that every child could reach their potential if given the right structure, environment, education, motivation, and inspiration. And it was an idea that John, undeterred by early challenges, brought to fruition inside a single South City middle school as Access Academies. For his idea, his vision, and his perseverance, we will forever be grateful.
Of course, John didn't just lay the foundation upon which Access Academies was built. It was his steady leadership — both as Board chair and Chair Emeritus — business acumen, and unparalleled commitment to our mission over the years that helped guide our success and growth. A true believer in the potential of every child, John was passionate about our students and a relentless advocate for equal access to quality education. As we reflect on the countless lives he touched and the opportunities he created, we acknowledge the profound impact he made on our organization, the communities we serve, and the greater St. Louis region. His legacy and spirit will remain our guiding light.
John was a kind and generous soul known for his warmth, humility, and infectious enthusiasm. A man of deep faith, he looked for the good in everybody and took a genuine interest in the well-being of others. He will truly be missed.
We extend our deepest sympathies to Joan and the entire Vatterott family and ask that you keep them in your thoughts and prayers during this difficult time. We will share information about memorial services and ways to pay tribute to John's legacy as soon as they become available. In the meantime, you can read more about his extraordinary life here.
With deepest sympathy,
Brian Day
Board Chair
UPDATE: For those who would like to honor John's life and legacy, a live-streamed Memorial Mass will be celebrated at St. Francis Xavier College Church on Friday, November 24, 2023, in St. Louis. Visitation starts at 9:30 a.m. and Mass will begin at 10:30 a.m. Additional details and a link to the service are available here.