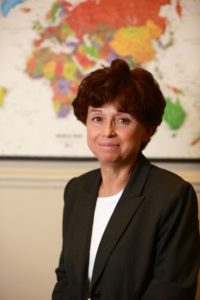 Marie Kenyon, ACCESS Academies Board member,  has been named a 2017 recipient of the Saint Louis Bar Foundation's Spirit of Justice Award for her inspirational work as the Director of the Peace & Justice Commission.
Founded in 2015 by Archbishop Carlson, the Peace and Justice Commission represents the eleven counties of the Archdiocese and works to address social issues, like poverty, racial tensions and lack of education.
The Spirit of Justice Award (SOJ) recognizes lawyers, non-lawyers or organizations who have demonstrated accomplishment, leadership, and integrity in fostering and maintaining the rule of law and in facilitating and promoting the improvement of the administration of justice. The SOJ Awards are determined each year based on nominations received by the Foundation, and then chosen by the SOJ Awards Committee.
Kenyon was honored at the Spirit of Justice Celebration on October 6th at the St. Louis Club.