Hailey Dunavant Wins Bishop DuBourg Presidential Scholarship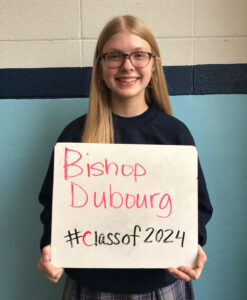 Congrats to St. Cecilia School & Academy 8th grader Hailey Dunavant for winning a Bishop DuBourg High School Presidential Scholarship! Awarded to the top 10 incoming freshmen who demonstrate excellence in academics, faith and service, leadership, and extracurricular activities, the $1,500 scholarship applies to the 2020-2021 academic year and is renewable each year thereafter. We wish Hailey continued success in high school.
Watch Bishop Dubourg principal Dr. Bridget Timoney's virtual award presentation below.