Betsy Liberatore Appointed Interim Director
Betsy Liberatore Appointed as Interim Director of Access Academies
ST. LOUIS, MO. October 23, 2014- Mrs. Betsy Liberatore has been appointed the Interim Director of Access Academies. She replaces Blake Youde who stepped down as the Executive Director in September.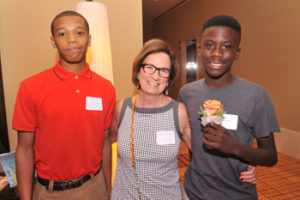 Liberatore, who has served as Access' Event Director since 2011, has helped to raise over $1,570,000 in high school tuition dollars for NativityMiguel students. Previously, she has held a variety of leadership roles including Executive Director of the Saint Louis Ambassadors, Inc.
"Betsy has done an outstanding job for Access Academies, and will continue her focus on fundraising efforts," said John Vatterott, chairman of the Board of Directors.
Access Academies provides a unique college preparatory education for economically and/or socially disadvantaged students in under-represented neighborhoods through the St. Louis NativityMiguel Model of Education program, which:
Extends the school day and school year from 6-8th grade to provide additional academic support. This includes a robust academic curriculum, homework assistance, service projects, and enrichment.
Encourages family involvement to further support the physical, social, emotional, and academic well-being of each student.
Eases the transition to high school and into college through graduate support. This includes, but not limited to, tutoring, mentoring, academic scholarships, and monitoring each student's individual academic growth and achievement through high school and into college.
Currently Access serves more than 135 middle school students at three Archdiocesan partner schools, and over 215 NativityMiguel graduates at more than 20 college-preparatory high schools in St. Louis. Since its inception in 2005, more than 600 students have benefitted for Access' services.
For more information regarding this release, please contact Julie Linder, Public Relations for Access Academies, by calling (573) 268-0639.
###