Graduate Success, Student Spotlight
Alumna Update: Kyra Harris Joins Critical Care Team at DePaul Hospital
Kyra Harris comes from 
a family of nurses. Her grandmother was a nurse. Her aunt was a nurse. And when she entered Avila University in the fall of 2015, the Rosati-Kain graduate was determined to continue the family tradition.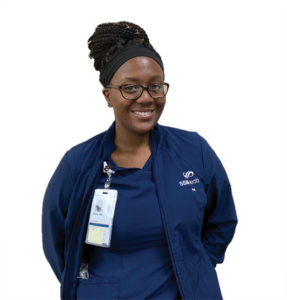 "I just felt I could do more 
as a nurse than I could as a doctor," says Harris, who puts a high priority on bedside manner. "Doctors might talk to you for 15 minutes, but
the nurse is there all day watching over their patients."
After an admittedly challenging four years of nursing school, Kyra officially earned her degree — and 
her scrubs — this May. She graduated from Avila and returned to St. Louis to join the critical care team at DePaul Hospital in Bridgeton, where she spent the summer working 12-hour shifts in the intensive care unit. It's been a busy and demanding few months, Harris says, but one she was prepared for thanks to her education.
"No matter where I have been, Access has always reached out."
"Nursing school was rough," says Harris, who enjoys painting watercolors to relax from the stress of the hospital, "it was a hard degree." But she credits the encouragement she received from her Access Graduate Support Director, as well as the enrichment classes at Most Holy Trinity Catholic School and financial assistance from the Work-Study program and  as contributing to her success in both high school and college.
"Access definitely prepared me to go to private school," Harris says. "It was a good foundation. It exposed me to a lot of things that made Rosati a comfortable place." And the time management skills developed through the program, she notes, proved invaluable when juggling a full course load and two jobs during her senior year.
"The program gave me skills that I wouldn't have had otherwise," Harris says. "Like managing my time, and being responsible for my work. They do a good job of making kids learn responsibility early."
While Kyra is excited about her new job, she still has one eye on the future. "I want to go to grad school next year to get my MSN to be a nurse practitioner," she says, noting that a year of work experience is required to apply to most programs.
And while she's unsure where she'll apply, Kyra is certain of one thing: Access Academies will be there for her if she needs help. "No matter where I have been, Access has always reached out."