23 Access High Schoolers Named 2020 Post-Dispatch 'A' Students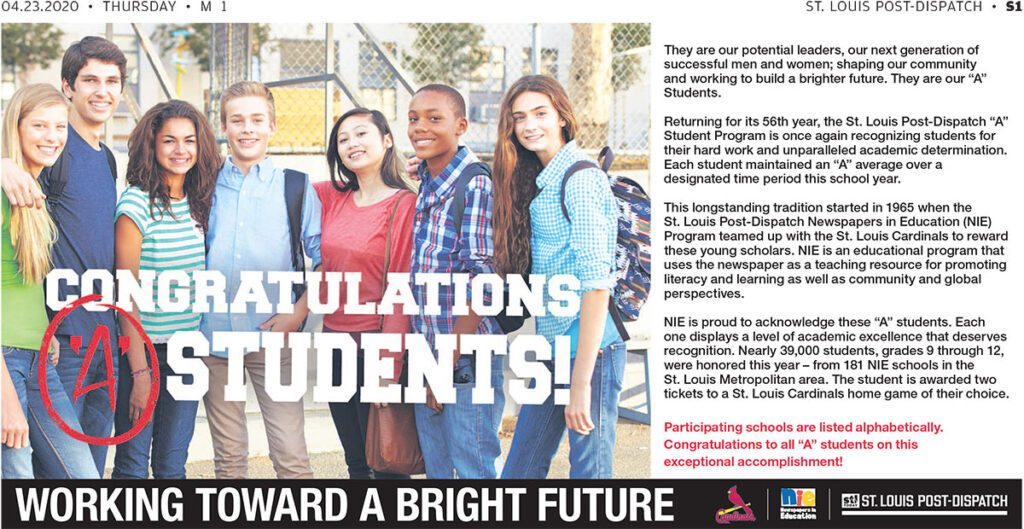 "They are our potential leaders, our next generation of successful men and women; shaping our community and working to build a brighter future. They are our 'A' Students."
Since 1965, the St. Louis Post-Dispatch's "A" Student Program has recognized area high school students for their hard work and unparalleled academic determination. Winners were selected from 181 high schools and were required to maintain an "A" average over a designated time period this past academic year. While not all Access partner high schools participated, we are proud to announce that 23 Academy students from 11 top college-prep schools were chosen. Congratulations to them all!
Bishop DuBourg
Gehaan Murray
Tyra Saddler
Humberto Viveros
CBC
Jeremiyah Love
Urive Martinez
De Smet
Eric Byas
Devin Jones-Ransom
Joaquin Utera-Rodriguez
Incarnate Word
Chavi Flowers
Alycia Mays
Aryah Mays
Jada Moore
Nerinx Hall
Noelle Harney
Notre Dame
Jasmine Mendoza
Rosati-Kain
Clarissa Aguayo
Hailey Cryer
Mira Wilper
St. John Vianney
Pablo Juan
St. Joseph's Academy
Natalia Delgado
SLUH
Chandler Flowers
Raphael Marzo
Joseph Olascoaga
Visitation
Leslie Viveros
Read and download the full list from the Post-Dispatch here.