53 Academy 8th Graders Accepted to Top Private, College-Prep High Schools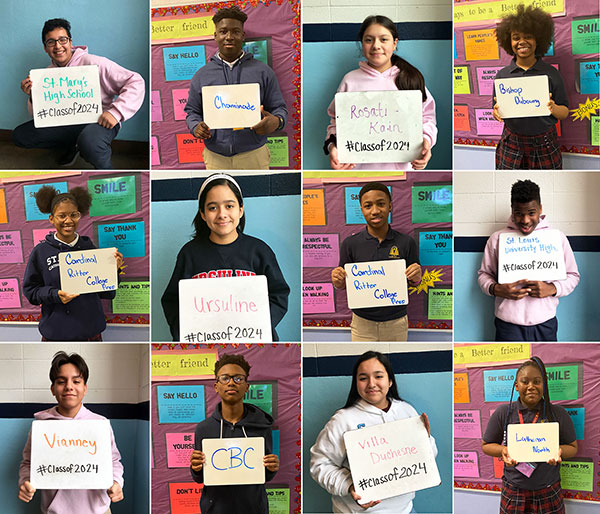 Every year, 8th graders across St. Louis spend the last week of January nervously awaiting acceptance emails from the area's top private high schools. And while the admissions process is competitive, each year 99 percent of Access students are accepted to the college-preparatory high school of their choice. This year was no exception.
We're proud to announce that 53 Academy 8th graders from St. Cecilia Catholic School, Most Holy Trinity Catholic School, and St. Louis Catholic Academy were accepted to 19 partner high schools, including Cardinal Ritter, St. Mary's, Rosati-Kain, CBC, SLUH, and De Smet. Students were also admitted to Bishop DuBourg, Chaminade, Collegiate School of Medicine & Bioscience, Duchesne, Incarnate Word, Lutheran North, Notre Dame, Nerinx Hall, St. Joseph's Academy, Vianney, Trinity, Ursuline, and Villa Duchesne.
Thanks to the ongoing support of donors like you, who recognize the importance of a top-tier, values-based education, the group of incoming freshmen will receive more than $700,000 in scholarships over the next four years. In addition, Access will cover the costs associated with ACT preparation/testing and college applications, as well as coordinate college visits and early exposure/prep programs like SLU Summer Scholars. Many students will also earn additional money toward their tuition by participating in our Work-Study program.
Access Graduate Support Directors will continue to provide each student with on-going and consistent guidance, counseling, mentoring, and advocacy through high school and into college or other post-secondary institutions.
To see where the 8th graders from each of our partner middle schools will attend high school, click below:
Most Holy Trinity
St. Cecilia Catholic School & Academy
St. Louis Catholic Academy
And here is a breakdown of students by high school:
| | |
| --- | --- |
| High School | No. of Students |
| Bishop DuBourg | 2 |
| Cardinal Ritter | 9 |
| CBC | 7 |
| Chaminade | 1 |
| Collegiate School of Medicine & Bioscience | 1 |
| Duchesne | 1 |
| De Smet | 3 |
| Incarnate Word Academy | 2 |
| Lutheran North | 1 |
| Nerinx Hall | 1 |
| Notre Dame | 2 |
| Rosati-Kain | 7 |
| SLUH | 3 |
| St. John Vianney | 1 |
| St. Joseph's Academy | 1 |
| St. Mary's | 8 |
| Trinity | 1 |
| Ursuline | 1 |
| Villa Duchesne | 1 |