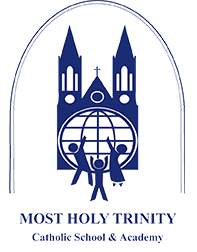 Most Holy Trinity School & Academy
1435 Mallinckrodt Street
St. Louis, MO 63107
314-231-9014
Principal: Syreeta Holland
For enrollment information, please click here.
---
MISSION
The mission of Most Holy Trinity Catholic School and Academy is to ensure students grow in their academic, spiritual, and personal development in order to be prepared for highly successful growth in high school and beyond.
As a Catholic elementary school, Most Holy Trinity Catholic School and Academy believes that each student is capable of learning and that students can excel in academics and in life regardless of societal influences, socioeconomic status or race/ethnic background. MHT strives to help each child to grow as a well-integrated person, able to assume an active role in the church and in the world and one who loves God, their neighbors, and themselves.
CURRICULUM
Most Holy Trinity Catholic School and Academy offers a holistic curriculum that addresses the academic, social, and spiritual development of every student. Our curriculum builds upon the foundations of education and allows for continuous strengthening of skills as students progress from Kindergarten through 8th Grade. Our comprehensive program is designed to meet each student where they are academically, socially, and spiritually and bring them to their highest level of achievement.
Students in grades K – 8 receive daily instruction in the following core subject areas:
English/Language Arts
Mathematics
Reading/Literature
Religion
Science
Social Studies
In addition, students in grades K – 8 attend Art, Computer, Music, and Physical Education classes.
Teachers employ best practices and differentiated learning techniques in their instruction of students. A learning consultant works with the teachers to ensure the unique learning needs of all students are being met. Academic support is provided through Title 1 classes and one-on-one and small group tutoring.