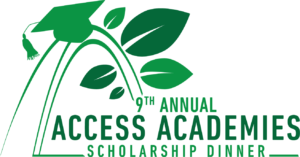 On behalf of ACCESS Academies, our board and staff, thank you for supporting the 9th Annual ACCESS Academies Scholarship Dinner! Because of you, our ever-increasing number of graduates will blossom into their full potential by attending the St. Louis region's excellent college-prep high schools and ultimately realize the dream of a college education!
For those who were unable to attend, but still would like to make a donation, please click here. To send a donation by mail, please make a check payable to "ACCESS Academies" and notating the Scholarship Fund. Our address is 3711 W. Pine Mall, #222, Saint Louis, MO 63108-3305. For additional questions or comments, please don't hesitate to contact us.
2017 Recap
"Goal: Success – ACCESS Academies" by Alexa Beattie, Town & Style Magazine!
Click for Party Pics: 9th Annual ACCESS Academies Scholarship Dinner by Greg Holden
Town & Style Snapped! Party Coverage for the 9th Annual ACCESS Academies Scholarship Dinner
Ladue News Society Gatherings Coverage for the 9th Annual ACCESS Academies Scholarship Dinner
The 2017 ACCESS Academies Highlight Video (Produced by Dan Duffy Productions)